Immelt: GE Poised to Thrive from 'Reset' Global Economy
By Keith Johnson
President Obama's economic policies have some industries 
frothing
 and certain edit pages seething. The WSJ editorial page, for instance, 
today calls
 the draft budget "a declaration of hostility toward capitalists across the economy."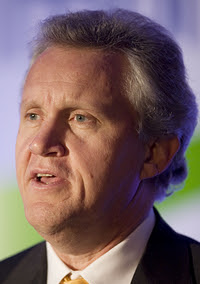 Bigger is better (AP)
Not all capitalists see it that way, though. 
Take General Electric
—the conglomerate's top executive says the big stimulus package and bigger budget amount to a "reset" of the capitalist model that creates all kinds of opportunities for companies that thrive in areas such as clean energy.
I believe we are going through more than a cycle. The global economy, and capitalism, will be "reset" in several important ways. The interaction between government and business will change forever. In a reset economy, the government will be a regulator; and also an industry policy champion, a financier, and a key partner […] I think this environment presents an opportunity of a lifetime. We get a chance to reset the core of GE and focus on what we do best.
And what would that be? Well, clean energy, say Mr. Immelt. GE's
energy unit
 already provided the company's strongest financial performance last year, and will continue as a profit driver this year, he said.
Not even cheapish oil can derail GE's clean-energy push, Mr. Immelt said: "The decline in the price of oil is a negative, but we believe that as costs go down for steel and other raw materials, some projects may in fact accelerate." One idea of how important clean energy has become for GE—the company cited its new turbine, to be launched this year, as the prime example of technological innovation.
GE's also banking on $10 trillion in stimulus spending on new infrastructure—for everything from smart electricity grids to 
new power plants
–in the U.S. and overseas: "Governments will invest to stimulate their economies, solve societal problems, and create jobs. GE's broad portfolio and expertise position us as a natural partner."
For GE investors, the big question is whether all that will be enough to salvage a share price that, in Mr. Immelt's words, got "hammered" last year.
Copyright 2013 Dow Jones & Company, Inc. All Rights Reserved